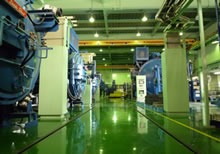 What is MHE?
Specialized company in sales, installation and maintenance of heat treatment furnaces
As a subsidiary company of Metal Heat Co., Ltd., Metal Heat Engineering Co., Ltd. specializes in domestic and overseas maintenance and relocation services of heat treatment furnaces.Years of experience in the heat treatment business gives us accumulated know-how to forecast the parts required for maintenance and reliably perform periodical parts replacement. Our strength lies in this ability to propose plans to lengthen the life of furnaces.

Partnership with Ipsen Co., Ltd.
With a business partnership with the major heat treatment furnace manufacturer, Ipsen Co., Ltd., we have established a network to sell Ipsen's furnaces and quickly and economically deliver its high quality maintenance parts.The power of teamwork between a heat treatment company and its equipment manufacturer manifests itself in a vertical startup of a plant and equipment through our integral service. This service ranges from the arrangement and installation of a furnace or its parts to the furnace's operation, maintenance and staff training.