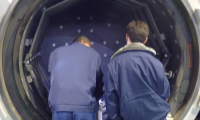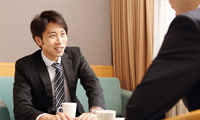 Proposal in advance
As a part of maintenance, we visit our customer's plant to make a periodic check and anticipate repairs and parts of heat treatment furnaces. Our diagnostic staff is experienced in heat treatment business to estimate the repair and replacement needs of furnace parts according to its years of use. By assessing the condition of expendable parts that can cause malfunction and by replacing them regularly, we prevent the worst scenario, a breakdown of a furnace in use.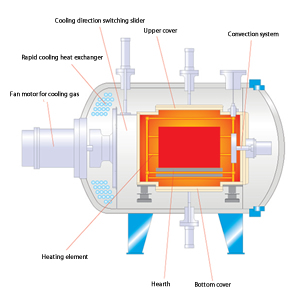 Detail of hot zone>>

Competitive
pricing
The quality of a "hot zone" inside a furnace's heating chamber affects the quality and performance of products processed in vacuum heat treatment. Normally the hot zone is a very expensive part of the furnace and requires an extensive maintenance and replacement work every 10 years or so.
Metal Heat Engineering Co., Ltd. collaborates with Ipsen Co., Ltd., to arrange a hot zone with standard parts mass-produced in the U.S. and adjusts it to the specification of each customer before replacement. As a result, we succeeded in drastically cutting the cost compared to Japanese market price.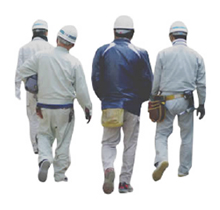 We are professionals.
Metal Heat Engineering Co., Ltd. has been in the heat treatment business for many years and has the treatment professionals who thoroughly understand the structure of furnaces. Moreover, together with the technical staff of Ipsen Co., Ltd., the leading company of heat treatment equipment, we are always ready to answer the needs of our customers.
When heat treatment professionals team up with machine professionals, it becomes possible to make an integral proposal that suits every necessity of a customer.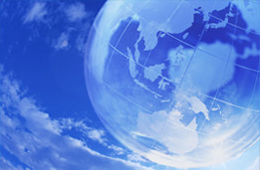 Domestic and overseas
equipment relocation
services
We take on not only domestic but also overseas relocation services of heat treatment equipment. Besides relocating existing equipment, we can take on the role of logistics as well as installation and startup. With us, a customer can purchase domestic second-hand equipment and install it overseas.
We perform thorough pre-relocation checks, including operation and required repairs prior to relocation, to ensure it operates after relocation. Including a post-relocation operational check according to heat treatment conditions, follow-up services are readily available.